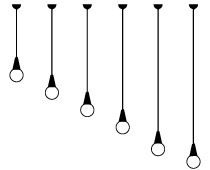 The abstract form (cone, globe, straight line) composition of this apparently simple pendant lamp has been developed out of the form-balancing research of Marie-Lise Féry. The balance of this composition lies in the dependency of the collection of forms relative to its surrounding space.
Materials
Brass and mouth-blown glass
Finishes

brass

: lacquered polished brass, unlacquered polished brass, brushed brass


nickel

: lacquered polished nickel, brushed nickel
Available colors
For the central tube (lacquered brass)
black
red wine
pine green
papyrus
mustard yellow
Dimensions
H. 900, 1100, 1300, 1500, 1750, 1900 mm / W. 160 mm / Ø 160 mm / 3.7, 3.9, 4.1, 4.3, 4.5, 4.7 kg

Light source

1 × Led G9 / 5W. 220V.
Download product informations
Download installation instructions